Publicado en  enero de 2019 por Brad Hill  
Rainnews.com has published the original content in English but has not reviewed or approved this translation." Any rights not expressly granted herein are reserved.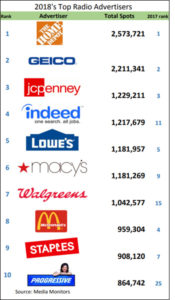 En la edición de hoy de James Cridland's Podnews , hace una comparación interesante. Al tomar la lista recién publicada de los principales anunciantes de radio (de Inside Radio), Cridland tiene la idea de compararla con la reciente lista de los 15 principales anunciantes de podcast de Magellan. Se da cuenta de la superposición de cero. La lista de anunciantes de radio está repleta de las principales marcas nacionales: The Home Depot, Geico, JCPenny, Lowe's, Macy's, Walgreens, McDonald's, Staples y Progressive. La lista de Magellan contiene anunciantes de respuesta directa ZipRecruiter, SimpliSafe, Squarespace, Rocket Mortgage, Stamps.com y otros 10 que los escuchas ávidos de podcast han escuchado a menudo.
Hay un destacado en la lista de anunciantes de radio: Indeed.com, que se comercializa con entusiasmo en los podcasts, aunque no llegó a la lista de octubre de Magellan.
La comparación es reveladora en su no duplicación absoluta, pero en realidad no es sorprendente. Ilustra las fortalezas históricas de dos medios que están relacionados pero son diferentes. La publicidad en la radio busca extender el reconocimiento de la marca a través de la repetición y la conversión de escuchar a las visitas a las tiendas. La publicidad de podcast se dirige a los ciudadanos activos en línea e intenta convertirlos en visitantes del sitio web que ingresan un código para autenticar la efectividad del anuncio.
El estudio de Podnews también apunta a diferentes aspiraciones en las dos categorías de audio. La radio con su gran alcance busca más fluidez en los datos y transparencia para los anunciantes acerca de la efectividad. Podcasting desea abrir los grandes presupuestos de publicidad de la marca nacional al evangelizar el impacto de reconocimiento de marca de sus estilos de patrocinio únicos.